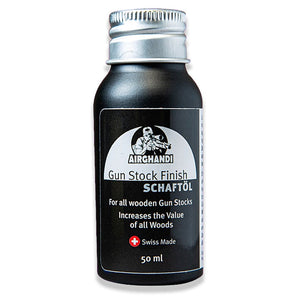 AirGhandi's shaft oil
Stock oil 50ml
Suitable for the finest woods

protection against moisture

color refreshment

Increases mechanical resistance

Prevents the wood from swelling, graying and rotting and protects the shaft from breaking due to material fatigue
The stock oil from the AirGhandi gun care series preserves the properties of the wood and prevents natural wood degradation without using artificial dyes or dissolved plastics.
It prevents swelling and shrinkage by preventing water absorption and water release.
The dissolved, natural solids, such as the wood's own lignin, penetrate deep into the wood and thus emphasize the grain.